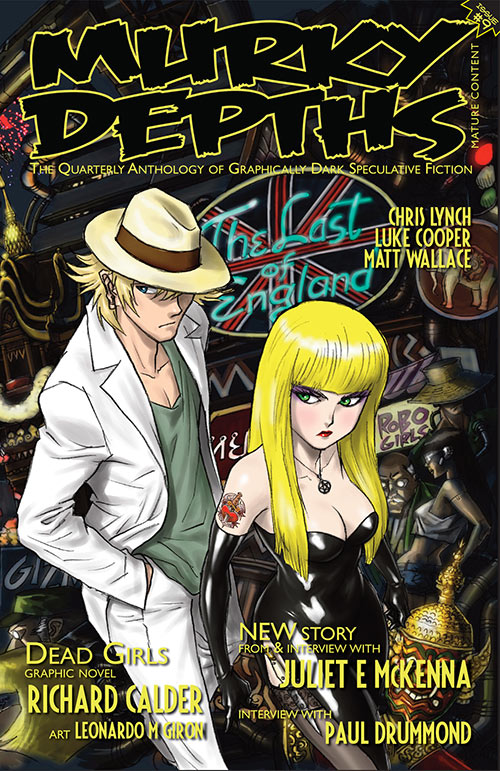 CONTENTS
Dead Girls Richard Calder [Art: Leonardo M Giron]
Is This My Last Testement Juliet E McKenna [Nancy Farmer]
Complaint from The Other World Matt Finucane [Denis Pacher]
Distant Rain Andrew Knighton [Smuzz]
The Wrath of God: Part 2 Luke Cooper [Luke Cooper]
March of The Broken Craig Hallam [Jenna White]
Cancelled Robert E Keller [Martin Deep]
Transported Man Anthony Malone [Neil Struthers]
Fast Learners Derek Kagemann [Nathaniel Milljour]
Postosuchus Kirkpatricki Simon Petrie [AR Yngve]
The Escape Artist Chris Lynch [Rick Lundeen]
Depth Charge - Paging: The Svengali Of Soc Matt Wallace
Interview with Paul Drummond
Interview with Juliet E McKenna
Plastic Life - An introduction to Dead Girls - The Graphic Novel KJ Bishop
A list of all contributors to Murky Depths appears here.
Cover price £6.99
Delivered to your door for just

€10
Europe and Republic of Ireland
$12
US and Worldwide
What people said about this issue:

"[Murky Depths] continues to be the best-looking genre magazine on the planet."
[Full review]

- Gareth D. Jones (SF Crowsnest)
"[Murky Depths] consistently high standard has made it one of the best genre fanzines out there right now. . ."
- Leah Holmes (SFX)
"Editor Terry Martin is building something special at Murky Depths. If you enjoy diversity and spirit in your speculative storytelling, in addition to sharp illustrations and some keen interviews, then Murky Depths should find its way into your rotation . . ."
[Full review]

- Daniel W Powell (The Byproduct blog)
"Hey guys, I just wanted to thank you for publishing my story in issue #9. I've read the mag cover to cover now and have to admit it's bloody brilliant. I can't believe I haven't read it before. The artwork you put to my piece was really atmospheric, thanks for picking such a great accompaniment.
Thanks again guys. I'm looking forward to reading the next issue. I'm hooked!"
- Craig Hallam (Murky Depths - Facebook Group)
The graphically dark anthology mixing short stories with comics, 84 perfect bound pages in American comic book format. Less than half price AND free postage!

#1

#2

#3

#4

#5

#6

#7

#8

#9

#10

#11

#12

#13

#14

#15

#16

#17

#18