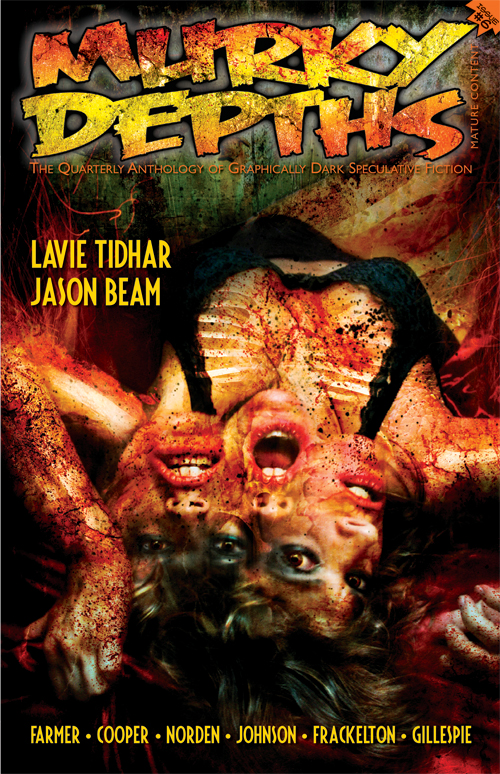 CONTENTS
The Last Marriane Alan Frackelton [Art: James Fletcher]
All I Want For Christmas Christian Carter-Stephenson [Mark Chilcott]
Are You Lonesome Tonight? Alan James Roll [Nancy Farmer]
Between Hanson and Hendrix Brian Ross [Candra Hope]
Alms For Oblivion Christopher Morris [Jackson Gebien]
Horizon Damien G. Walter [Ian Jones]
Xmas Love Story Lavie Tidhar [Thomas Tuke]
The Third Time David J Howe [Brian Troll]
Best In Class Jonathan Gillespie [Paul Drummond]
Hellhound Luke Cooper [Luke Cooper]
Ghoul Is My Copilot Julio Alegria [Mark Bell]
The Head Of Saint Mark ZS Adani [Ed Norden]
The Factory James Johnson [Leonardo M Giron]
A list of all contributors to Murky Depths appears here.
Cover price £6.99
Delivered to your door for just

€10
Europe and Republic of Ireland
$12
US and Worldwide
What people said about this issue:

"
In between receiving issues of 'Murky Depths' I always forget quite what the magazine is like. This means that every time I open the packet and pull out a new issue I'm stunned again at the vibrancy of its production. Full colour cover, glossy, high quality paper throughout, a rich medley of artistic styles, the clean and professional layout and that subtle smell of quality. . . .I would say this is the strongest issue yet.
"
- Gareth D Jones (SFcrowsnest)
"
The cover looks brilliant. And the interview with Jason Beam was really interesting. Some useful tips in there for new illustrators.
"
- Candra Hope (Murky Depths Forum)
The graphically dark anthology mixing short stories with comics, 84 perfect bound pages in American comic book format. Less than half price AND free postage!

#1

#2

#3

#4

#5

#6

#7

#8

#9

#10

#11

#12

#13

#14

#15

#16

#17

#18