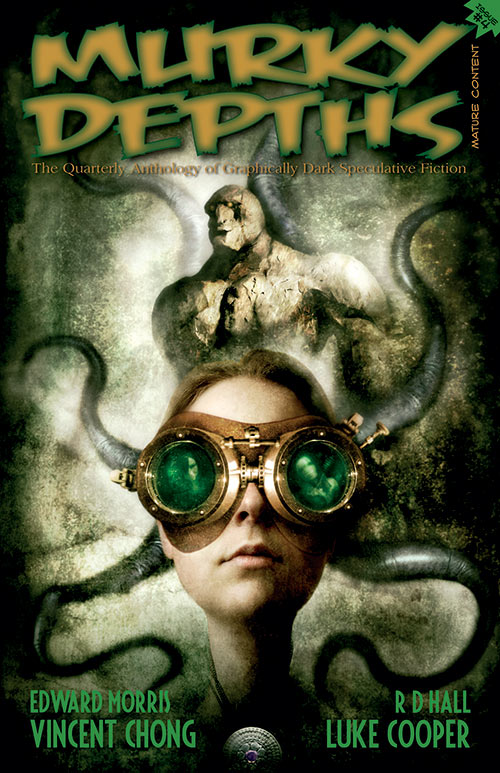 CONTENTS
Demon Lover Sam Stone [Art: Martin Deep]
Saint Darwin's Sprirituals D K Thompson [Glen James]
Miracle Michael A Pignatella [Mike Lomon]
First Aid Edward Morris [Mark Chilcott]
Flave's Formula Jason Palmer [Abe Saleh]
The Man With The Hologram Face Louise Cypher [Dan Skinner]
Paternoster Blues Richard Barber [A R Yngve]
Casting Sin C S MacCath [Ed Norden]
Day Boy Trent Jamieson [Brian Troll]
The Dark Gospel 3 - Halo Slipping Luke Cooper [Luke Cooper]
Rex The Dog Mur Lafferty [Dan Gardner]
Warped James Johnson [Leonardo M Giron]
The Visitor R D Hall [Denis Pacher]
When It Stomps Beneath The Terra (Article) Matt Wallace
An Interview with BFS award winner Vincent Chong
A list of all contributors to Murky Depths appears here.
Cover price £6.99
Delivered to your door for just

€10
Europe and Republic of Ireland
$12
US and Worldwide
What people said about this issue:

"
Murky Depths . . . blends killer art, dark short stories, and graphic strips into a combination comic book/fiction magazine that's pure candy for both the mind and eyes.
"

- Michell Lee (The Fix)





"

This quarterly anthology is something very special indeed and is going to cause some long running fiction magazines to start sweating in fear. What I love most about this publication is the way it embraces storytelling in all its forms, an eclectic collection of styles, genres and presentation sealed inside one of the most professional packages I have had the pleasure to hold in my hands.

"

[Full Review]

- Gary Charles (Whispers of Wickedness)





"

If you like a mix of art and story, this is for you.

"

[Full Review]

- Sam Tomaino (SFRevu)





"

I'm not even going to say what my top three favorites were...because I can't. There wasn't one piece in here that wasn't a pleasant surprise,

"

- Edward Morris (Murky Depths Forum)



The graphically dark anthology mixing short stories with comics, 84 perfect bound pages in American comic book format. Less than half price AND free postage!

#1

#2

#3

#4

#5

#6

#7

#8

#9

#10

#11

#12

#13

#14

#15

#16

#17

#18