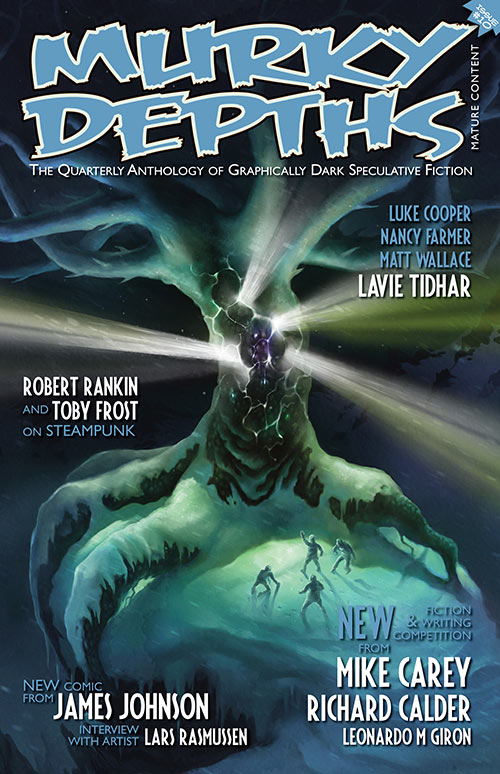 CONTENTS
Dead Girls Richard Calder [Art: Leonardo M Giron]
Now! And Then! Mike Carey [Neil Roberts]
The OTher Side Of Life Ian R Faulkner [Dylan Williams]
Soul Music Richard Rippon [Nancy Farmer]
Radio Man, Frequency Woman Alex Curnow [Neil Struthers]
Christmas Miracle Jeff Cook [Martin Deep]
The Long Haul Mark Ball [Smuzz]
The Last Precinct - Part 1 Luke Cooper [Luke Cooper]
The Claimant Toby Anderton [Toby Anderton]
Finger Lavie Tidhar [Neil Roberts]
The Naked Soul Of Man James Johnson [Lars Rasmussen]
Depth Charge - Pussy Control Matt Wallace
Interview with Lars Rasmussen
Stirred Not Shaken Robert Rankin & Toby Frost
Over To You - writing competition Mike Carey
A list of all contributors to Murky Depths appears here.
Cover price £6.99
Delivered to your door for just

€10
Europe and Republic of Ireland
$12
US and Worldwide
Reviews of this issue:

"Many genre magazines fail to make it into double figures, so it's especially exciting to see 'Murky Depths' hit the magic tenth issue. With the launch of a writing competition that stretches to issue 14 and with plenty more artwork and stories already commissioned for forthcoming issues, it looks like the publishers plan to be around for a while yet. . . . This issue features some of the best artwork yet and the fiction continues to push the boundaries of darkness. . . ." [Full review]
- Gareth D. Jones (SF Crowsnest)
"Murky Depths . . . reaches a landmark issue with #10, providing more great entertainment. Let's hope that [it] continues with many "tens" of issues. For that to happen, you must subscribe." [Full review]
- Sam Tomaino (SFRevu)
The graphically dark anthology mixing short stories with comics, 84 perfect bound pages in American comic book format. Less than half price AND free postage!

#1

#2

#3

#4

#5

#6

#7

#8

#9

#10

#11

#12

#13

#14

#15

#16

#17

#18